Promising Paradise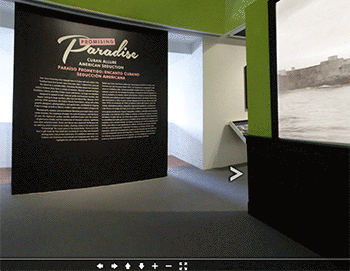 Promising Paradise: Cuban Allure, American Seduction
Through photographs, posters, and promotional ephemera drawn primarily from a gift by Vicki Gold Levi, Promising Paradise: Cuban Allure, American Seduction revisits this past relationship that left lasting traces in both nations. From the Prohibition era of the 1920s through the postwar tourism boom of the 1950s, the exhibition traces how wealthy Americans and celebrities were lured to the exotic nightclubs, casinos, and cabarets of Cuba—creating a flood of tourism, a perception of glamor, and a craze for Latin music and dance in the U.S.
Myth & Machine
The epic First World War exhibition, Myth and Machine has closed, but you can still explore this important moment in your browser or on your tablet! The virtual tour allows you to wander each gallery and zoom in to see the details of individual works. Click on the image gallery sidebar for access to higher-resolution images as well as caption information.
Wonders Never Cease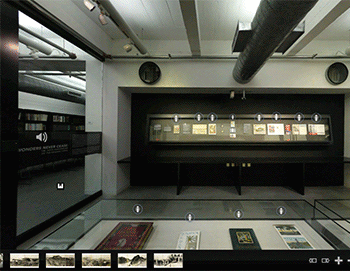 Wonders Never Cease: The 100th Anniversary of the Panama Canal The 1914 completion of the Panama Canal inaugurated a new era of global trade and travel. For centuries the narrow Isthmus of Panama commanded the attention of monarchs and explorers seeking a less precarious means of circumnavigating the globe. Digging through the natural land mass to create a man-made canal would allow ships to bypass the dangerous coastal ridges, drowning currents, and powerful storms that confronted sailors on the existing route around Cape Horn. The monolithic feat of realizing the Canal was the culmination of thirty-three years of effort by two industrial superpowers (France and the United States) as well as the deaths of many indigenous and imported laborers. Immediately recognized as an engineering marvel for its complicated system of hydraulic gates, lakes, and locks, the project emerged from a climate of technological excitement that thoroughly transformed the modern industrial landscape. Nearly one-hundred years and thousands of vessels later, the Canal is currently undergoing renovations that will allow it to meet the demands of contemporary maritime conditions, including gargantuan ships and increased traffic. Drawing on its holdings of rare books and archival collections, The Wolfsonian–FIU library commemorates the industrial achievements and the individual lives that set the stage for this present-day pursuit.